Thring's Practical Legislation: The Composition and Language of Acts of Parliament and Business Documents 3rd ed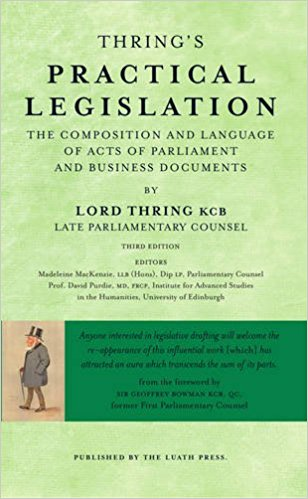 ISBN13: 9781910745113
Published: December 2016
Publisher: Luarth Press Ltd
Country of Publication: UK
Format: Paperback
Price: £7.99

Reprint of the 1902 Little, Brown and Company edition
How do you go about drafting an Act of Parliament? In this classic text. Lord Thring, the great Victorian Parliamentary Counsel, sets out the basic rules of the art and craft of creating legislation.
Thring advises Counsel on how to go about finding the right words to give the clarity and precision which will give legal effect to the Government's policy. In doing so, he supplies a rare insight into what is, even today, a somewhat mysterious occupation.
Much of what he says remains relevant now - and not just for Parliamentary Counsel. His advice applies equally to the writer of any legal or business document.
Thrinqs astute political sense is summed up in his famous aphorism, A Bill is made to pass as razors are made to sell. He includes fascinating accounts of his interactions with two great Victorian Prime Ministers, William Gladstone and Benjamin Disraeli.
Operating in a field where there are no concrete rules, Thring saw the need to formulate general rules of guidance for those inexperienced in the art of legislative drafting and published his work following his appointment as First Parliamentary Counsel. This new edition brings his advice to a modern readership.