Justice so Requiring: The Emergence and Development of a Legal System in Gibraltar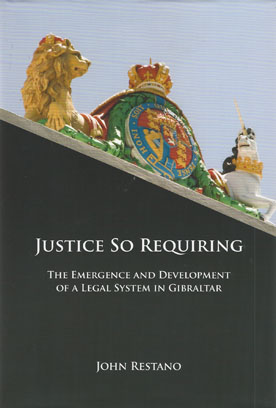 ISBN13: 9781919665023
Published: April 2012
Publisher: Calpe Press
Country of Publication: Gibraltar
Format: Hardback
Price: £20.00

Justice So Requiring refers to the phrase used by judges to sign off their judgments. This reductive statement has long been swept away by the winds of change but it serves as an opening for this book on the history of Gibraltar's legal profession.
John Restano explores the development of a legal system, charting the first moves towards the setting-up of a civil court in a post 1704 Gibraltar governed by military law. No proper system of law had been established during these early years of British occupation and whereas criminal cases were tried by courts martial, all other civil and commercial disputes would remain unresolved.
Matters only changed after a petition from two merchants on the necessity of a civil jurisdiction in Gibraltar was presented to the British government. The response to their demands was met with the establishment of the First Charter of Justice in 1720 and with it that of the first civil court in Gibraltar.
The road towards a fully fledged civil jurisdiction was long if not laboured, with subsequent charters updating and expanding the law courts to the modern judiciary found in Gibraltar today.
Justice So Requiring also takes the reader on a historical journey which uncovers key legal figures and cases of note; these in turn give us an insight into the very fabric of the courts in Gibraltar.