Law of Contract in New Zealand 4th ed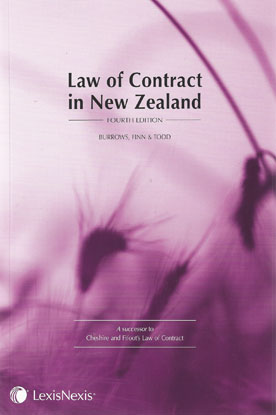 ISBN13: 9781927149546
Published: April 2012
Publisher: LexisNexis New Zealand
Country of Publication: New Zealand
Format: Paperback
Price: Out of print

The fourth edition of Burrows, Finn and Todd's Law of Contract ( A successor to Cheshire and Fifoot's Law of Contract) provides definitive coverage of the law of contract in New Zealand.
The clarity and the comprehensive nature of the discussion make this book the first point of reference for the legal practitioner, the law student, and all who are interested in this core field of law. This latest edition maintains and builds upon the exemplary standards set by its predecessors.
The fourth edition includes many new and significant cases. Examples include:-
Nielsen v Dysart Timbers Ltd (2009) (lapse and termination of offers);
Vector Gas Ltd v Bay of Plenty Energy Ltd (2010) and Wholesale Distributors Ltd v Gibbons Holdings Ltd (2008) (use of prior negotiations and subsequent conduct in the interpretation of contracts);
Attorney-General of Belize v Belize Telecom Ltd (2009) (implication of terms);
Tercon Contractors Ltd v British Columbia (2010) (exclusion of liability);
Laidlaw v Parsonage (2010) (privity of contract);
Sunset Terraces (2011) (privity and third party claims in negligence);
Gustav & Co Ltd v Macfield Ltd (2008) (unconscionable bargains);
S B Properties Ltd v Holdgate (2011) (assignment of the burden of a contract);
Ingram & Knee v Patcroft Properties Ltd (2011) and Mana Property Trustees Ltd v James Development Ltd (2010) (cancellation of contracts);
Golden Strait Corporation v Nippon Yusen Kubishika Kaisa (2007) (damages);
and Transfield Shipping Inc v Mercator Shipping Inc (The Achilleas) (2009) (remoteness of damage).
New legislation also has been enacted. In particular, chapter 8 has been substantially revised in the light of the requirements of the Property Law Act 2007; and the discussion of limitation of actions in chapter 21 now includes the provisions of the Limitation Act 2010.
All of the chapters have been revised and updated to take account of these and other developments. Examples where there have been recent and helpful decisions include the discussions of certainty of contract, of conditional contracts after Steele v Serepisos, of misrepresentation and the Fair Trading Act, and of undue influence in the light of Royal Bank of Scotland v Etridge.