Anti-Suit Injunctions In International Arbitration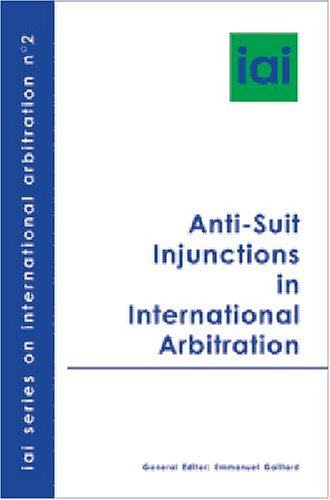 ISBN13: 9781929446605
ISBN: 1929446608
Published: March 2005
Publisher: Juris Publishing
Country of Publication: USA
Format: Hardback
Price: £110.00

Anti-suit injunctions are a device, originally found in common law countries, whereby a court-which retains its jurisdiction or anticipates to do so and which seeks to protect that jurisdiction or, more generally, the jurisdiction of the forum it deems to be the most appropriate- orders a party to refrain from bringing a claim before the courts of another State or before an arbitral tribunal or, if the party has already brought such a claim, orders that party to withdraw from, or the arbitrators to suspend, the proceedings.
In the past few years, the use of anti-suit injunctions in the context of international arbitration has been spreading at a disturbing pace. The courts of many common law countries but also those of civil law tradition frequently resort to this device at a party's request, in order to disrupt the arbitration process or resist the enforcement of the award.
How best to resolve those conflicts arising as a result of national courts'differing perspectives on the validity and scope of certain arbitration agreements? Are anti-suit injunctions in conformity with the requirements of public international law? When the courts of certain States enjoin a party to refrain from proceeding with an arbitration, should other courts enjoin them not to enjoin, or should they, like the U.S. Court of Appeal for the 5th Circuit in the Pertamina case, exercise a commandable "self-restriction"? These are just a few of the issues addressed in Anti-Suit Injunctions in International Arbitration.