World Arbitration Reporter Looseleaf 2nd ed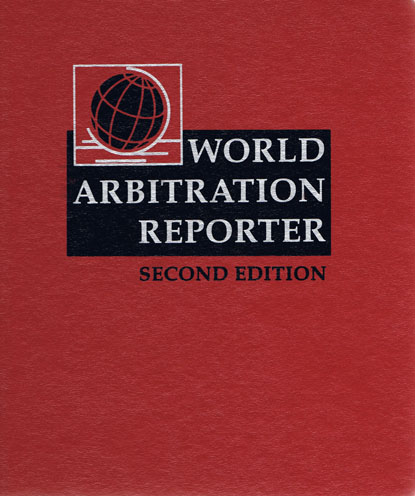 ISBN13: 9781933833460
Published: April 2010
Publisher: Juris Publishing
Country of Publication: USA
Format: Looseleaf, 6 Volumes + CD-Rom
Price: £895.00

International and domestic arbitration are well established in most countries of the world as an attractive alternative to court proceedings. More specifically, in certain sectors of the economy, such as construction and energy, and in the majority of international commercial transactions, arbitration is the preferred option for the settlement of disputes. While it remains difficult or even impossible to determine exact numbers the figures given by the major institutions suggest continuous growth in numbers.
International arbitration is at the junction of national, international and conflicts laws, public and private law and substantive and procedural law. Arbitration has become a more prominent area of legal practice and a distinct academic subject in many universities, typically at post-graduate level. This exponential growth increased the pool of lawyers dealing with arbitration and also made arbitration accessible or even a matter or regular business for engineers, accountants and other professions. Inevitably this "democratization" of arbitration highlighted that people involved in arbitration have different level of knowledge or expertise. This should come as no surprise, since only about thirty years ago arbitration was practiced by bigger law firms with strong international litigation practices while there were hardly any specialist arbitration practice groups or departments in most major law firms. Nowadays many more firms practice arbitration and several more practices have emerged, either sole practitioners or groups of less than five lawyers.
National legal systems have either developed on the basis of the UNCITRAL Model Law of International Commercial Arbitration or have the own special features. The three biggest arbitral jurisdictions, i.e. England, France and Switzerland have gone their own way and have national laws substantially distinct from the Model Law. Rules and practice of arbitration institutions also varies. There exist also many institutions predominately catering for domestic or specific industry disputes. Finally, we also have large number of international treaties dealing with arbitration, at bilateral, regional or global level.
Again this background of numerous instruments and other sources (case law and scholarly writing), of national or international origin, the general and the specialist editors and all contributors present this second and fully revised edition of the World Arbitration Reporter – The International Encyclopaedia of Arbitration Law and Practice (WAR) and hope that it will prove a useful tool for all its readership.
WAR in its first edition and over several years -- with numerous supplements and updates -- was edited by Professor Hans Smit and Vrat Pechota of Columbia University Law School with many of the national reports prepared "in-house". This second edition brings together the work of more than 100 contributors who prepared either reports of national law and practice, or reports on the rules and practice of major domestic and international institutions and concise analyses of major international treaties. The reports are authoritative but accessible, up-to-date and comprehensive.
At its completion the new WAR will comprise commentary of 100 national jurisdictions, all leading international treaties pertaining to international arbitration and more than 100 arbitration institutions with regular updates and three to four releases annually or as otherwise necessary to ensure subscribers have access to accurate, up-to-date, authoritative and insightful resource.
This second edition of WAR is under the general editorship of Professor Loukas Mistelis and Dr Laurence Shore. In addition, there are two specialist editors, Dr Stavros Brekoulakis who is responsible for arbitration institutions and Dr Monique Sasson who is responsible for international treaties. The team is assisted by a team of researchers and editors at the School of International Arbitration at Queen Mary University of London. Contributors are drawn from major law firms, arbitration institutions and universities all over the world.