The Public Policy Exception Under The New York Convention: History, Interpretation, and Application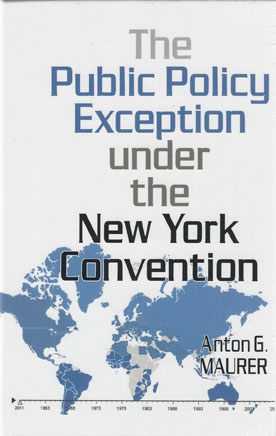 ISBN13: 9781937518035
Published: June 2012
Publisher: Juris Publishing
Country of Publication: USA
Format: Hardback
Price: Out of print

This new book describes in detail the drafting history of the public policy exception of Art. V (2) (b) of the New York Convention in order to determine the purpose the signatory states wanted to achieve with this clause.
The book also explains how this clause is applied by the courts in many economically relevant states, and especially in Brazil, Russia, India, and China.
This book is of importance for all internationally active companies, as well as for lawyers and courts. The book aids lawyers and companies in drafting arbitration clauses and in enforcing foreign arbitral awards. Often, judgments will not be enforced abroad; this is especially true with respect to an enforcement of foreign judgments in the BRIC countries.
Therefore, internationally active companies and their advisors need guidance if and where foreign arbitral awards in their favor will be enforced abroad.