Comparison of International Arbitration Rules 4th ed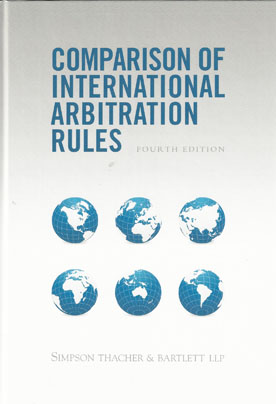 ISBN13: 9781937518165
Published: February 2013
Publisher: Juris Publishing
Country of Publication: USA
Format: Hardback
Price: £125.00

This chart comparing the provisions of the leading sets of international arbitration rules was first created by the International Arbitration Group of Simpson Thacher & Bartlett as an internal reference tool. We have used the chart extensively in connection with four different areas of our international arbitration practice.
First, we regularly use the chart in assisting clients in selecting arbitration rules and drafting arbitration provisions for their international commercial contracts. For example, where a client seeks to include a provision governing a specific procedural issue in an arbitration clause, the chart provides easy reference to the different provisions used in the leading sets of international arbitration rules.
Second, the chart has served a similarly useful function in connection with the advice we have provided to foreign governments in preparing their national legislation concerning international arbitration. Third, the chart has assisted us in developing arguments on procedural issues in connection with our representation of clients in international arbitration proceedings. Finally, members of our International Arbitration Group frequently refer to the chart in preparing articles for academic periodicals or conferences on international arbitration. By publishing this chart, we hope to share these benefits with users of international arbitration, practitioners, legislators and academics alike.
We considered various factors in deciding which sets of international arbitration rules to include in the chart. The International Chamber of Commerce ("ICC"), American Arbitration Association/International Center for Dispute Resolution ("AAA/ICDR"), London Court of International Arbitration ("LCIA"), Stockholm Chamber of Commerce ("SCC") and International Center for Settlement of Investment Disputes ("ICSID") rules are included as leading sets of institutional international arbitration rules. Other institutional arbitration rules are not included simply for reasons of manageability and space. The international arbitration rules of the United Nations Commission on International Trade Law ("UNCITRAL") and the International Institute for Conflict Prevention & Resolution ("CPR") are included as the preeminent sets of ad hoc international arbitration rules.
We received much positive feedback on the first three editions of this chart published in 1998, 2002 and 2008 respectively. In this fourth edition, we have updated the chart to reflect amendments made since 2008 to the sets of rules included. The most significant of those amendments were made to the ICC and UNCITRAL arbitration rules.
Compiling this chart was a challenging process, primarily because the various sets of international arbitration rules deal with specific procedural issues very differently and because several of the sets of international arbitration rules recently have undergone substantial amendments. The chart was conceived and its compilation supervised by Robert H. Smit, and it never would have been completed without the extraordinary efforts of Emma Lindsay, Michelle Hertz and Jordan A. Botjer of our International Arbitration Group, who worked tirelessly creating the finished product.