Swiss Civil Code - English Version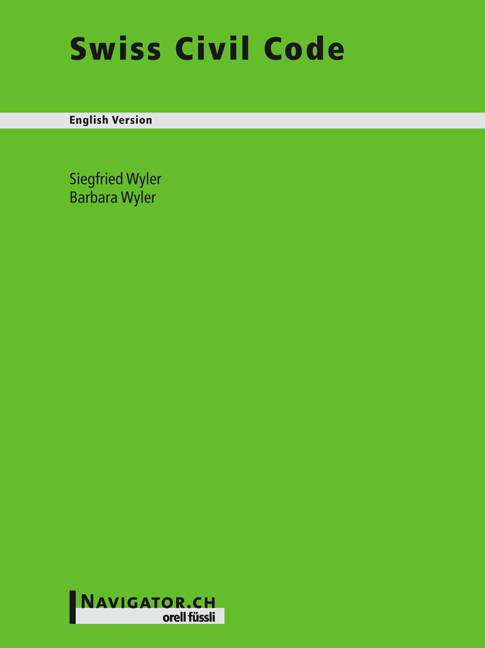 ISBN13: 9783280072301
Published: November 2009
Publisher: Orell Fussli Verlag AG
Country of Publication: Switzerland
Format: Hardback
Price: £95.00

Despatched in 5 to 7 days.
In 1923, the late Ms. Ivy Williams, M.A., D.C.L. Oxon, LL.D., wrote her doctoral thesis 'The Source of the Law'. In 1925 followed her translation of 'Schweizerisches Zivilgesetzbuch' under the title 'The Swiss Civil Code, English Version', published by Oxford University Press.
In 1976, the late Dr Max Kimche found this translation in a London bookshop and learned that it was out of print. He subsequently obtained the copyright from OUP and published a facsimile translation in his Remak Verlag, Zurich.
In 1988, Siegfried Wyler and Barbara Wyler edited a fully revised and updated translation of the Code. After Dr Kimche's death in 1988, the sale of the Code in two volumes was continued by Remak Verlags AG, St. Gallen. The 1988 edition of the Code, English version, was reprinted in 1997.
In 2000 Remak Verlags published a supplementary volume 'Modifications of the Law' containing all changes in the law since the publication of the Code in two volumes in 1988.
This present edition, published by Orell Füssli Verlag AG, Zurich, unites the former three volumes in one. It is a fully revised edition reflecting the law as of 1 September 2009. It contains textual notes, vocabularies in English, German and French as well as an index. In the Appendix (No. 3) is the text of the future law on the Protection of Adult Persons (replacing the Law on Guardianship), decided on 19 December 1998, which will come into force in the next few years.