Evidentiary Privileges in International Arbitration: A Comparative Analysis under English, American, Swiss and French Law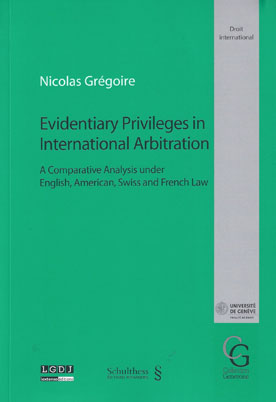 ISBN13: 9783725585847
Published: April 2016
Publisher: Schulthess Verlag
Country of Publication: Switzerland
Format: Paperback
Price: £62.00

Global markets offer a multitude of business opportunities and, as a consequence, cross-border activities and international trade have become the norm. The shift towards multi-jurisdictional business transactions has resulted in an increase in international disputes. Rules of evidence, on the other hand, including evidentiary privileges, have been conceived for proceedings in local courts and are not adjusted to international disputes submitted to arbitration.
In addition, arbitration laws and arbitration rules do not provide any guidance on how arbitral tribunals should deal with evidentiary privileges, although rules of evidentiary privilege can vary considerably throughout the world. For example common law jurisdictions, which generally provide for extensive disclosure, will usually contain highly developed and varied evidentiary privilege rules, which civil law jurisdictions, where disclosure is limited, will afford less protection to evidentiary privileges.
The purpose of this book is to review the evidentiary privileges existing under English, American, Swiss and French law that are the most likely to be invoked in arbitration, to determine which laws govern evidentiary privileges in international arbitration and, finally, to determine whether there exists a preponderance of practice suggesting that certain evidentiary privileges could develop into transnational rules in international arbitration.