Dutt on Contract: The Indian Contract Act 1972 10th ed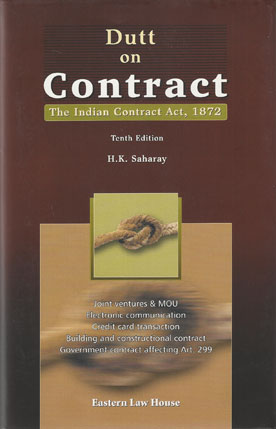 ISBN13: 9788171771837
ISBN: 8171771831
Published: August 2006
Publisher: Eastern Law House
Country of Publication: India
Format: Hardback
Price: £48.00

Usually despatched in 1 to 3 weeks.
The Indian Contract Act 1872 saw the dawn of legislation as a regulatory process to enforce the English common law and statute law relating to contracts. Since then, it has been the code of fundamental principles to guide trade and commerce in our country.
Dutt on Contract has been a major aid to its understanding and interpretation for decades running beyond seven. The tenth edition indexes its acceptance and popularity.
Expanding breadth of coverage Increasing trade and commerce amongst different nations of the world riding on the electronic information highway laid by technological development of communication have fuelled the field the applicability in contractual relationships.
The present edition embraces this ever¬widening coverage with all amending provisions properly treated and judicial pronouncements of the Apex Court 'and High Courts duly discussed with inclusions latest to the date. The English Electronic Communication Act 2000 as well as the relevant American laws on contract have featured in parallel discussion. Halsbury' s Laws of England and Corpus Juris Secundum continue to ornament the enunciations and analysis.
What's new for this edition - Building and Construction Contract, Government Contract attracting Art. 299 of the Constitution, Joint Ventures with enforceability of MOU, and elucidation of relevant terms and expressions widely used in contracts create new frontiers of key benefits to be derived from this edition.