The Role and Extent of a Proportionality Analysis in the Judicial Assessment of Human Rights Limitations within International Criminal Proceedings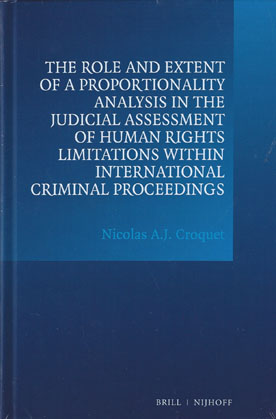 ISBN13: 9789004231429
Published: December 2015
Publisher: Brill Nijhoff
Country of Publication: The Netherlands
Format: Hardback
Price: £176.00

The aim of this monograph is to analyze how the International Criminal Tribunal for the former Yugoslavia, the International Criminal Tribunal for Rwanda and the International Criminal Court have resorted to proportionality and other limitation techniques when placing implied external limits upon the exercise of substantive and procedural human rights enjoyed by the accused and other actors affected by international criminal proceedings.
Implied external limits in this context are defined as those limits that override the exercise of a human right on public interest grounds or on grounds relating to competing human rights and that either fall outside the scope of a limitation/qualification clause of an international criminal court's internal legal instruments or go beyond its express and ordinary terms.
The present monograph will point to various sources of legal uncertainty which international criminal courts have generated in the limitation process of those human rights relevant to international criminal proceedings and to the definition of international crimes.
The monograph will examine the relation between human rights, limitations on human rights standards and proportionality under international criminal procedural law and international criminal law (understood substantively) in light of the limitation and proportionality practices of international human rights monitoring bodies.