Raising Capital on Arab Equity Markets: Legal and Juridicial Aspects of Arab Securities Regulation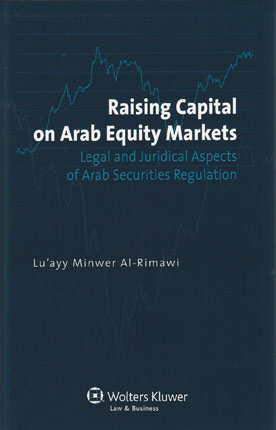 ISBN13: 9789041128379
Published: March 2012
Publisher: Kluwer Law International
Country of Publication: The Netherlands
Format: Hardcover
Price: £120.00

Despatched in 4 to 6 days.
This first book of its kind discusses in particular the role of investor protection as regards disclosure when issuers are offering securities to the public, with full descriptions of the securities markets and stock exchanges in seventeen Arab jurisdictions.
In two interrelated parts it examines both the regional macroeconomic matrix and a detailed case study (that of Jordan) in order to analyse the development and characteristics of an Arab regulatory model. Among the important issues and topics arising in the course of the analysis are the following:-
relevance of international regulatory standards to Arab securities markets;
mandatory versus voluntary securities disclosure;
the fundamentals of the Islamic financial system, role of riba and gharar, nature and impact of Shari'a's unquantifiable juridical risks on the modus operandi of Arab securities markets;
macroeconomic adjustment policies and structural adjustment programmes in several Arab countries;
recent economic and Arab capital markets impact in the wake of the 'Arab Spring';
extent of different countries' reliance on Shari'a as a constitutional source;
constitutional challenges to the imposition of interest;
the need for the positive law to compel securities disclosure under Shari'a;
shareholders' remedies when suing for fraud or negligent misstatements;
liability for misleading or inaccurate disclosure (under the general law of the UK and a selected Arab jurisdiction);
prospectus liability under the statutory regime of the UK and an Arab regulatory regime;
bars to rescission of contract: Comparative UK and Shari'a aspects; and
Arab, UK regulatory agencies' enforcement, prosecutorial, administrative and civil remedies.
The author closely examines various instruments deployed for conveying securities disclosure and dissemination of information, and looks extensively at relevant rulings as enunciated by an Arab court of cassation. He then constructs a model of an effective securities disclosure regime in order to provide better investor protection for shareholders under Shari'a.
Among the strengths of Dr Lu'ayy Minwer Al-Rimawi's book is the fact that at all times he adopts a comparative approach, not only as between different Arab systems, but also with an appreciation of the legal position in the UK and the European Union and elsewhere. [The Hon. Mr Justice Sir William Blair Q.C., High Court Judge in the UK and Chairman of the Qatar Financial Centre Regulatory Tribunal].
As the first in-depth discussion of the regulation of Arab capital markets in English, with an eye to international standards and the policy issues involved – and with attention focused on the central question of how the law can properly protect investors – this book will commend itself to all those with an interest in securities markets in the Arab world.