International and Comparative Mediation: Legal Perspectives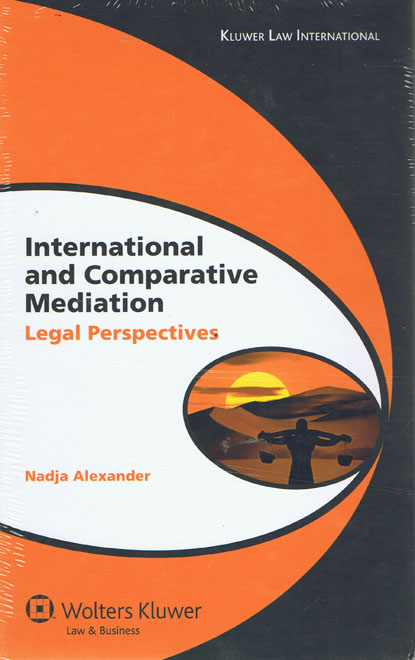 ISBN13: 9789041132246
Published: December 2009
Publisher: Kluwer Law International
Country of Publication: The Netherlands
Format: Hardback
Price: £114.00

This book meets the practice needs of lawyers confronted with cross-border disputes now arising far beyond the traditional areas of international commerce, such as consumer disputes, inter-family conflicts, and disagreements over Internet-based transactions.
The author takes full account of mediation's risks and limitations, primarily its lack of finality and uncertainty in relation to enforceability issues which will persist until the advent of appropriate international regulation. Among the aspects discussed and analysed are the following:
the emerging and significant new wave of global disputants;
need to resolve disputes on the basis of factors other than law;
increasing tendency of disputes to defy specific legal categories;
dispute prevention systems drawing on mediation principles, such as project management mediation, partnering, and alliancing;
mediation compared to others forms of dispute resolution;
referral to mediation;
mediation and multi-tiered dispute resolution (MDR) clauses;
the duties of mediators, lawyers and parties;
confidentiality and its implications;
enforceability of mediated settlements; and
the impact of mediation on legal rights and remedies.
While the book draws on examples from around the world, six primary jurisdictions (the United States, Australia, England, France, Germany, and Austria) are selected for several reasons, including comparison of legal traditions, significant volume of mediation-related case law, and the existence of mediation-related legislation and implementation requirements.
Cross-border legal instruments examined include the European Directive on Mediation, UNCITRAL's Model Law on International Commercial Conciliation (MLICC), and the Uniform Mediation Act (UMA) in the United States. In the 21st century mediation is at the forefront of contemporary social and legal development and is finding a place in both physical dispute resolution forums and worldwide electronic-based communities.
International and Comparative Mediation with its deeply informed insights into emerging international trends and the diversity of mediation regulation applicable to international disputes, shows conflict management practitioners how to create a forum culturally acceptable to each specific group of participants, with a view to agreeing on appropriate norms for the regulation of future relationships. It will be welcomed by lawyers working in a wide range of cross-border practice.