The TRIPS Regime of Trademarks and Design 2nd ed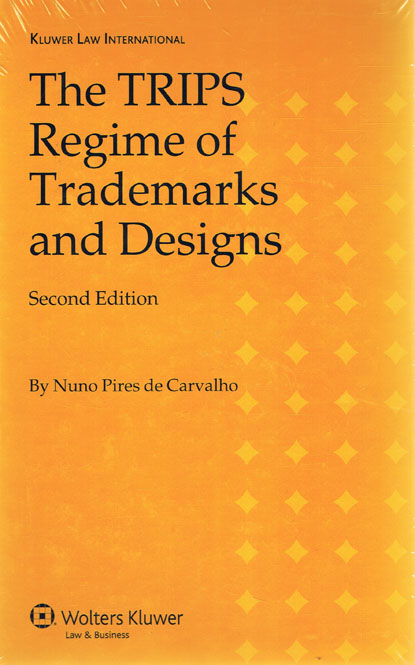 ISBN13: 9789041132758
Published: November 2010
Publisher: Kluwer Law International
Country of Publication: The Netherlands
Format: Hardback
Price: Out of print

The Agreement on Trade-Related Aspects of Intellectual Property Rights (the TRIPS Agreement), which constitutes Annex 1C of the Agreement Establishing the World Trade Organization (WTO), is undoubtedly the most comprehensive international agreement on intellectual property protection ever established.
This incomparable book, recognized since its first edition as the preeminent work on its subject, thoroughly and expertly examines the intricacies of the TRIPS provisions concerning trademarks and industrial designs.
It is organized as a paragraph-by-paragraph annotated text of the Agreement, with detailed commentary not only on the articles specifically dealing with industrial property but on every clause in the Agreement that could affect the protection of trademarks and/or designs.
The second edition brings the author's prodigious analysis of case law, dispute settlements, ongoing scholarship, and other pertinent developments fully up to date. With the authority and in-depth experience of a WIPO official whose daily work is to assist developing countries implementing TRIPS obligations in the area of industrial property, Nuno Pires de Carvalho brings his practical insight and vast scholarship to such complex questions as the following:-
What is the real concept of intellectual property? What is the characteristic that is common to patents and copyright, which promote invention and creation, and distinctive signs that are indifferent to invention and may even discourage it?
How does the TRIPS Agreement interact with the Paris Convention? Should one treaty prevail over the other in case of conflict?
Can WTO Members envisage a third modality of exhaustion that retains the benefits of the two known modalities (national and international exhaustion) and yet overcomes the shortcomings of both?
What signs constitute trademarks? What is the fundamental obligation under TRIPS as regards trademarks: to register or to protect? Are these terms synonymous?
What elements assist in identifying a well-known mark? Does knowledge mean reputation?
What are the limitations on the protection of non-visually perceptible marks like sounds, scents and tastes? Is there a Human Rights dimension in the protection of those non-traditional signs?
What are WTO Members' obligations as regards marks that relate to goods and services that offend religious and moral values? Are they obliged to register and protect them?
What is the policy space left to WTO Members as regards trademarks and public health (medicines, tobacco)?
What are the mechanisms available to protect industrial designs? To what exceptions and limitations are they subject? Can they be subject to compulsory licenses?
What lessons can we learn so far from the Dispute Settlement Mechanism?
Lawyers, judges, scholars and government officials will find a wealth of information and legal analysis in this new edition of The TRIPS Regime of Trademarks and Designs that will help them identify new approaches and solutions to problems of trademark and design law posed by the implementation of the TRIPS Agreement.
With its combination of practically-focused article-by-article commentary and scholarly analysis and insight, it will be an invaluable resource to all those who wish to understand industrial property at a deeper level.