International Contracting: Law and Practice 3rd ed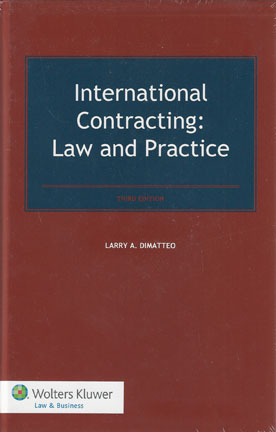 ISBN13: 9789041135308
Published: January 2013
Publisher: Kluwer Law International
Country of Publication: The Netherlands
Format: Hardback
Price: Out of print

For more than a decade this prized guide has served practitioners handling the legal ramifications of international contracting projects. The Third Edition thoroughly describes the new and ever-changing concepts and procedures that continue to redefine the searching, drafting, and execution of international contracts. More profoundly, it takes fully into account the impact of the financial crisis of 2008 on the legal profession, the regulatory system, and how we view certain types of contractual instruments.
All the invaluable features of earlier editions are of course still here, including analysis of key contract issues unique to various types of contracting, common contract clauses (such as choice of law and dispute resolution clauses), contract checklists, insights gleaned from actual cases and arbitral proceedings, and clear explanation of the principles of good contract drafting. The major relevant international conventions, model laws, pertinent national laws, legal guides, and other documents and instruments are all covered, with primary texts provided in appendices. The bibliography (including online sources) is once more greatly expanded and enhanced.
The Third Edition introduces the idea of proactive or strategic contracting, and adds a new chapter on confidentiality, nondisclosure agreements, and covenants not to compete. It updates on relevant developments worldwide include new material on China, the European Union (including the important Common European Sales Law), Germany, Scandinavia, Russia, and Australia. The important new United Nations Convention on the Use of Electronic Communications in International Contracts is also covered. Given the legal liability that can result from the failure to take private international law developments into account, this book is not only valuable but necessary. As an adroit combination of up-to-date theoretical underpinning and eminently practical guidance, the book will continue to serve practitioners well in this latest edition.