International Commercial Agreements and Electronic Commerce 5th ed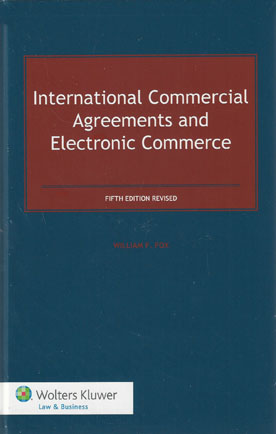 ISBN13: 9789041145611
Published: October 2013
Publisher: Kluwer Law International
Country of Publication: The Netherlands
Format: Hardback
Price: £144.00

The day-to-day business of international trade is primarily an undertaking between two private businesses based on a contract drafted and negotiated between the two parties for performance by them with occasional third-party assistance.
It is this down-to-earth point of view that has caused this incomparable one-volume work to be treasured by business people and their counsel through four previous editions. The book's much-appreciated precise information on a wide variety of issues encountered in setting up and performing international commercial agreements – including those pertaining to intellectual property, alternative dispute resolution, and regional differences – is of course still here in this new edition. New material includes the following:
expanded coverage of international treaties on corruption and bribery;
recent judicial and scholarly commentary on the CISG and the work of the CISG Advisory Council;
discussion of INCOTERMS 2010;
descriptions of new ventures in international electronic commerce and online dispute resolution; and
analysis of new changes in the arbitration rules of major international organizations.
With its in-depth exploration of techniques for smoothing the negotiation process and term-by-term guidance in drafting contracts to cover a wide variety of business relationships, from services to licenses, franchises to joint ventures, this book stands alone among contract drafting guides and has proven its enduring worth.
In its recognition that a business executive entering into an international commercial transaction is mainly interested in drafting an agreement that satisfies all of the parties and that will be performed as promised, this superb functional guide for negotiating,drafting, and resolving disputes in international commercial agreements will immeasurably assist any lawyer or business executive to plan and carry out individual transactions even when that person is not interested in a full-blown understanding of the entire landscape of international contracts.