The Practitioners' Treatise on International Joint Ventures: Basic Structures, Essential Documents, Special Problems, Common and Civil Law Jurisdictions with Multiple Clauses and Forms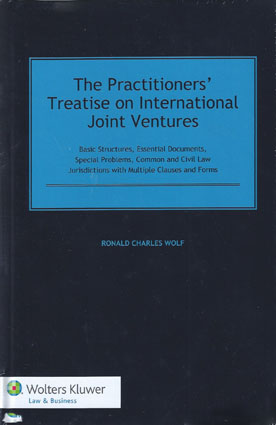 ISBN13: 9789041158376
Published: April 2015
Publisher: Kluwer Law International
Country of Publication: The Netherlands
Format: Hardback
Price: £172.00

International lawyers dealing with joint ventures face complex legal issues on a daily basis. Practical guidance is a must. The necessary documentation and clauses have been developed from the regular practices of other international lawyers all over the world. Legal custom has been the guiding hand with less reliance on legal theory. But the two—custom and theory—must complement one another.
In this substantially revised third edition of a popular text, an American lawyer with over 40 years' experience in a European capital provides in clear, straightforward simple language, with multiple forms and clauses, the practice and indispensable theory necessary to ensure a successful orientation for the international practitioner.
Practical solutions to the recurring problems joint ventures present between partners, with over 100 sample clauses, are presented in understandable, yet technically precise language.
All aspects of counseling an international joint venture are reviewed and discussed, ranging from formation, documentation, capital structure, basic clauses, minority interests, squeeze-out maneuvers, managing the joint venture, due diligence, termination problems and procedures to a closing, all amply illustrated with forms and clauses and their relevance.
Moreover, the third edition offers expert insights into complex areas of international joint ventures such as the shareholders' agreement, minority rights, squeeze-out maneuvers, and management problems.
Additionally, unique features of this third edition include a "Topical List and Questions (100) for International Joint Ventures," which is a mandatory checklist for consultation by the practitioner, as well an unmatched first-time glossary of international joint venture terms and definitions comprising over 200 items.
These features save time, money, and other resources by giving practitioners a starting point in drafting international joint venture documents and by minimizing the likelihood that a key issue with potentially significant ramifications will be overlooked. With equal importance, are considered the problems the future may bring and how to effectively anticipate those through proper drafting.
The ultimate no-nonsense textbook, the third edition of A Guide to International Joint Ventures with Sample Forms is a key weapon in the arsenal of the international lawyer.