New Developments in EU and International Copyright Law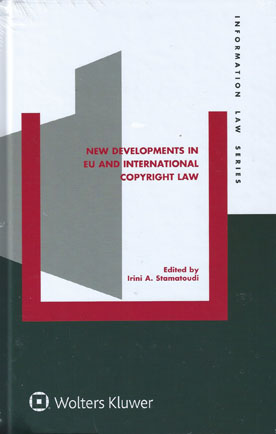 ISBN13: 9789041159915
Published: February 2016
Publisher: Kluwer Law International
Country of Publication: The Netherlands
Format: Hardback
Price: £140.00

More than a source of income and a means of protection for creators, rightholders and the creative and entertainment industries, copyright is also a vehicle for technological advances and economic development.
In the European Union, industries with intensive emphasis on intellectual property rights (mainly copyright) generate more than a quarter of employment and more than a third of economic activity.
Yet copyright continues to be plagued by problematic attempts to balance the interests of rightholders, the public, consumers, intermediaries, collecting societies, different national legal traditions and other forces, European and global. Although it has met certain challenges – some of those involving new technologies – copyright 'stretching' may have reached its limit.
This book thus offers a multi-facet approach to comprehend the ongoing developments in copyright, which takes into account politics, policies, the law and what is attainable in the given circumstances.
This book provides an informed insight by experts who have been involved in varying roles in either teaching or shaping of copyright law in the EU or worldwide. This book discusses on the following:-
making content available in an EU digital single market;
collective management and multi-territorial licensing;
exceptions for libraries and archives, education and research;
traditional knowledge and cultural expressions;
unjustified geoblocking;
illegal content on the Internet;
text and data mining;
copyright enforcement online; and
role of the European Court of Justice.
These topics analysed form the cutting edge of the developments in the EU and WIPO which in turn constitute the 'bigger' picture in copyright in the EU and WIPO. Twenty-two well-known and prestigious experts on intellectual property law from seventeen jurisdictions worldwide have contributed essays on particular trends in copyright.
Policy recommendations, as well as a detailed conceptual framework for a potential EU Copyright Code are set forth. How this will help you New Developments in EU and International Copyright Law enables the reader to gain an overview of what is to expect in terms of EU harmonisation and current and future works in WIPO.
As a detailed and thoughtful overview of current trends in copyright internationally, this book has no peers. It is sure to be welcomed by practitioners, policymakers, academics, and business leaders for whom intellectual property rights and especially copyright, are of the first importance.