Security: A General Principle of Social Security Law in Europe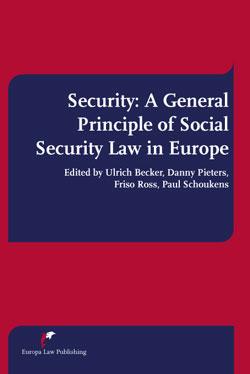 ISBN13: 9789089520630
Published: May 2010
Publisher: Europa Law Publishing
Country of Publication: The Netherlands
Format: Paperback
Price: £90.00

Usually despatched in 1 to 3 weeks.
Social security systems are experiencing a profound change all over Europe, due to internal as well as to external reasons: changes in society, in the labour markets and globalisation. The normative dimension of these changes is often overlooked.
This book takes the first step in filling the gap, concentrating on security as a general principle of European social security law (GPSoc), explaining what this principle means and how it works. It reflects the way in which legal comparison can be used to gain a better understanding of social security law. It brings together detailed reports from 14 European countries. And it analyses the effects of security on legislative, as well as on administrative, action.
By so doing, it not only provides detailed information about the institutions and the instruments through which social security works in practice, but also offers a better understanding of its normative basis. This basis is fundamental: It explains the role which social security plays in modern societies, since it is, after all, a core element of the nation state which holds these societies together in times in which they can no longer be based on religion or social class.