Collected DOCDEX Decisions 2009 – 2012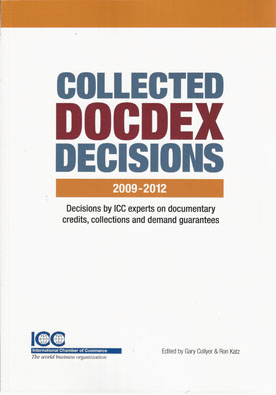 ISBN13: 9789284201747
Published: December 2012
Publisher: International Chamber of Commerce
Country of Publication: UK
Format: Paperback, A4
Price: Out of print

Decisions by ICC experts on documentary credits, collections and demand guarantees. Covering cases decided from 2009-2012, this is the third volume in the series of DOCDEX Decisions. 35 Decisions provide valuable insights into the reasoning behind the experts' final judgments on the disputes in question
Decisions presented in this volume are about some of the most controversial provisions of the latest revision of ICC's universally used rules on letters of credit, UCP 600. The collection also contains cases dealing with UCP 500, UCP 222, URC 522 and URDG 458. It gives answers to thorny questions like:-
Does the fact that the Respondent delivered the documents to the applicant make it liable to pay an amount in excess of the documentary credit value?
Is the issuing bank entitled to claim a refund, with interest, of reimbursement made to the respondent when its refusal notice does not accord with the requirements stated under UCP 600?
Can an error in the commercial invoice, packing list and certificate of quality – which constituted a reversal of the order of the route of shipment covered by the L/C – be accepted as a typing error?
The DOCDEX Decisions collections complement the ICC Banking Commission Opinions. Together, they are indispensable aids to practitioners seeking to understand how ICC rules are applied in daily practice. ICC Publication