The Building of Peace: A Hundred Years of Work on Peace Through Law. The Peace Palace 1913 - 2013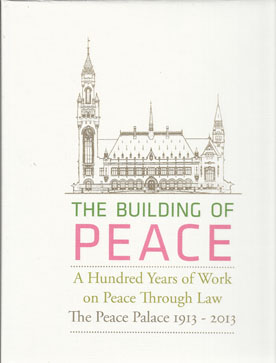 ISBN13: 9789462360860
Published: August 2013
Publisher: Eleven International Publishing
Country of Publication: The Netherlands
Format: Hardback
Price: £41.40

Despatched in 13 to 15 days.
This versatile book highlights the centenary of the Peace Palace in all of its facets. Unlike in 1913, in 2013 the world is not in an idealistic mood. Differences between countries have partly given way to complex conflicts within national borders, and with international dimensions.
This book examines the existence and the legitimacy of the Peace Palace with an open, inquiring gaze. New historical research describes in detail how this icon of international law, and the institutions that it houses, have survived the past century, with all of their bruises and successes.
Major authors from different continents have written personal contributions, an extensive photo series shows what happens inside the walls of the Peace Palace over the course of a year, and an expert in the field of international law takes the reader inside and discusses the image and self-image of the institutions in the Peace Palace, on the basis of personal observations.
This is a fascinating insight into a specialized world that is seen as closed off, but that increasingly recognizes the interests of everyone. A microcosm with a global perspective, where work is done with great dedication and commitment to promote and maintain peace in the world via the dispassionate means of law.