Corporal Punishment of Children in International and National Law: Selected case studies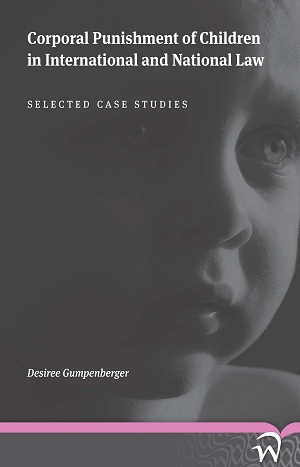 ISBN13: 9789462401020
Published: April 2014
Publisher: Wolf Legal Publishers
Country of Publication: The Netherlands
Format: Paperback
Price: £23.00

Usually despatched in 1 to 3 weeks.
Despite the growing consensus that corporal punishment violates children's fundamental human rights - respect for human dignity and physical integrity - most of the world's children are still subjected to assault. Against this background, this book discusses and compares the characterstics of corporal punishment of children laid down in international documents such as the United Nations Convention on the Rights of the Child, International Covenant on Civil and Political Rights, Convention against Torture and other Cruel, Inhuman, or Degrading Treatment or Punishment as well as regional documents such as the European Convention on Human Rights, the African Charter on the Rights and Welfare of the Child and the African Charter on Human and Peoples' Rights.
Each chapter starts with a short introduction, followed by an examination of a definition of corporal punishment, and shows the role of expert bodies who are monitoring the implementation and processes of standard-setting. Therefor a distinction is made between the prohibition in alternative care settings, schools, and by parents, which leads to the question: 'Is corporal punishment of children by their parents prohibited?'. The second part of the book deals with a comparative study, in which the implementation of the previously discussed documents in the United Kingdom, Zambia, South Africa and Belgium is analysed. Hence, the question is, 'How does the State implement the provision of the prohibition of corporal punishment in domestic law?' which is followed by the question, 'Has the specific State prohibited corporal punishment of children by their parents?' The book ends with a comparative conclusion, in which the above-mentioned countries are compared with each other.