Cross-Examination: Science and Techniques 2nd ed: 2012 Supplement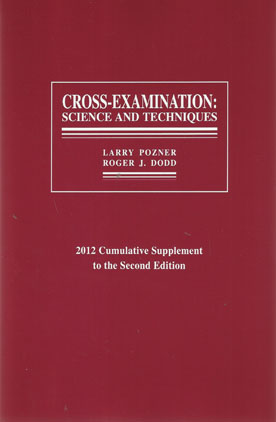 ISBN13: 000665986180
Published: October 2012
Publisher: LexisNexis Matthew Bender
Country of Publication: USA
Format: Paperback
Price: £45.00

Usually despatched in 1 to 3 weeks.
The latest 2012 supplement to the seminal work on cross-examination delves into the role of constructive cross-examination. Constructive cross-examination builds the cross-examiners own theory of the case through cross-examination testimony of the opponent's witnesses.
Continue to use techniques learned in Cross-Examination: Science & Techniques 2nd ed -- and use opposing witnesses to a much greater extent. Constructive cross keeps the witness comfortable and in the affirmation -- and brings out relevant facts from their witnesses to get your story to the jury in the strongest light possible.
The 2012 Cumulative Supplement now includes an exciting new chapter:-
Value-Based Cross-Examination:

Support your cross by damaging the credibility of the witness.
Establish a value that the witness with subscribe to.
Expose witness conduct that is inconsistent with those values.
Also included is the 2010 Cumulative Supplement:-
Use their witnesses to advance your theory of the case
Works even on hostile witnesses
Show jurors the important facts using cross
The Supplement also includes three chapters not previously included in the book.