Health Investor: Print + Online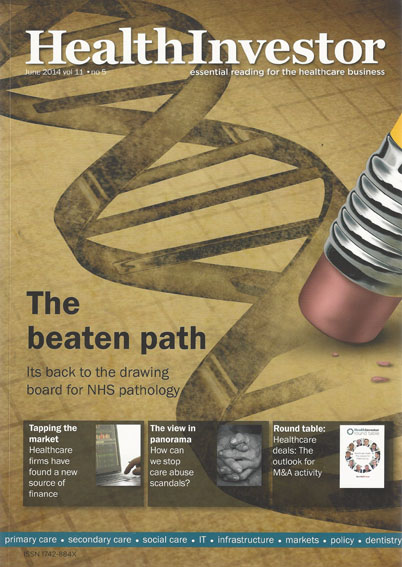 ISSN: 1742-884X
Latest Release: January 30, 2020
Publisher: Investor Publishing Ltd
Country of Publication: UK
Format: Print & Online
Price: Price on Application

Subscription Type: Annual Subscription
Domestic Renewal Price: £580.00
HealthInvestor is now firmly established as the definitive publication for professionals advising, investing or operating within the health sector. In 2010 we were shortlisted for the Periodical Publishers' Association's monthly business magazine of the year award.
Our team of experienced journalists and researchers not only produce monthly editions of the magazine, but also publish a number of sector-specific supplements, original research, industry roundtables and assist in the development of tailored events for the health sector.
Each month the magazine will deliver:
A round-up of UK news covering all the month's important political and business developments Detailed news analysis offering a critical look at key events
Unique features that offer in-depth examinations of the industry's hot topics, such as primary care reform, the private hospital market and the role of independent NHS providers
Profiles of the sector's major players
The HealthInvestor Index – the only comprehensive index reflecting the prices of UK healthcare companies traded on the full list of the London Stock Exchange, the Alternative Investment Market and PLUS Markets
Detailed listing of healthcare deals signed in the previous month, complete with advisers
Comprehensive summary of company results
Round-up of executive appointments
In addition to the 10 monthly copies of exclusive, market leading health sector news and analysis plus the many advantages already detailed, you will also get:
Full magazine content for the month online
Daily news updates on the website
Weekly email alert delivering breaking news and blockbuster deals direct to your inbox
Regular supplements on topics such as healthcare law, finance and property
Access to years of archived articles and deal information
Privileged access to forthcoming industry leading conferences and events
HealthInvestor
will help you stay ahead of your competition by providing you with the insight and information required to impress clients and assist in your business decision making.