Professional Conduct Casebook 2nd ed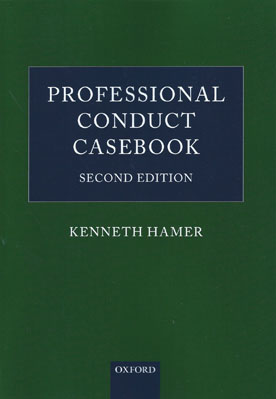 ISBN13: 9780198728597
Published: June 2015
Publisher: Oxford University Press
Country of Publication: UK
Format: Paperback
Price: Out of print

The number of regulatory and disciplinary cases coming before the courts has increased dramatically in recent years, reflecting the rise in the number of complaints made against professionals of all kinds.
Now in its second edition, Kenneth Hamer's Professional Conduct Casebook is a leading authority and continues to be the only book to provide comprehensive coverage of the growing body of case law in this developing area. It analyses all key professional conduct and competence cases in one single volume, distilling the general principles from the legislative framework and offering lucid and informed summaries for today's busy practitioner.
The book contains extensive summaries of the decisions reached in each case by the court. Structured alphabetically for ease of reference, the book contains over 70 chapters which cover every issue arising in the course of professional conduct proceedings, from absence of the practitioner right through to the unrepresented practitioner and witnesses.
The author expertly identifies all of the relevant source material that needs to be considered when confronted by a specific issue, and provides clear, practical guidance. Each chapter examines the legal framework of all the applicable statutory and non-statutory provisions, details any relevant guideline remarks which set out general principles, and summarizes all relevant case law, making the book an indispensable source of reference for every regulatory and disciplinary lawyer and anyone engaged in this work.