EC Securities Regulation 2nd ed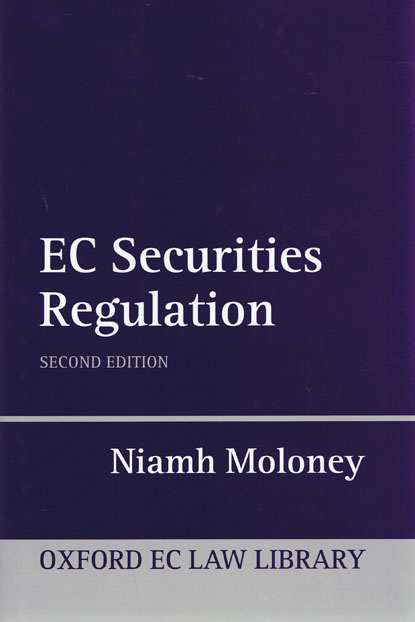 ISBN13: 9780199202744
Published: October 2008
Publisher: Oxford University Press
Country of Publication: UK
Format: Hardback
Price: Out of print

In the wake of radical and far-reaching legal, market, and institutional reforms which followed the completion of the Financial Services Action Plan, the EC regime for Securities Regulation now governs Community financial markets and has almost replaced national law in this area. This long-awaited second edition considers the extensive new regime in its legal, institutional, political, and market context and assesses the forces which have shaped it.
Far-reaching reforms have followed from the coincidence of law-making reform under the Lamfalussy process with the regulatory reforms adopted under the Financial Services Action Plan. This book considers key measures, including the 2003 Prospectus Directive, the 2003 Market Abuse Directive, the 2004 Transparency Directive, the reforms to the UCITS regime, the groundbreaking 2004 Markets in Financial Instruments Directive, and the extensive developments in clearing and settlement. A new chapter addresses the treatment of gatekeepers.
Detailed attention is given throughout the book to the extensive rules which apply at level 2 and to the level 3 process. New chapters have also been added on law-making and supervision, following the dramatic developments which followed the establishment of the Committee of European Securities Regulators. The influence wielded by the CESR on EC securities regulation is a key undercutting theme of the book.
New to this edition:-
Almost every aspect of EC securities regulation has changed since the first edition, following reforms to the law-making process and substantive reforms under the Financial Services Action Plan. This edition has been completely rewritten to reflect these far-reaching changes.
Considers key measures, including the 2003 Prospectus Directive, the 2003 Market Abuse Directive, the 2004 Transparency Directive, the reforms to the UCITS regime, and the groundbreaking 2004 Markets in Financial Instruments Directive
A new chapter addresses the treatment of gatekeepers
New chapters have also been added on law-making and supervision