The Jackson ADR Handbook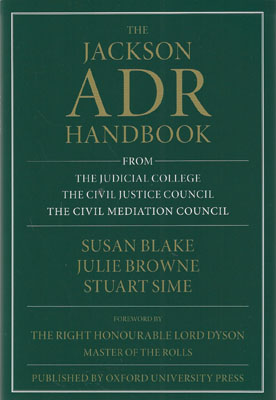 ISBN13: 9780199676460
Published: April 2013
Publisher: Oxford University Press
Country of Publication: UK
Format: Paperback
Price: Out of print

The first book to focus on Alternative Dispute Resolution (ADR) post the Jackson reforms, this essential and practical guide follows recommendations by Lord Justice Jackson in his Review of Civil Litigation Costs that an authoritative handbook for ADR should be prepared.
Lord Justice Jackson envisaged that this handbook would be on the desk or in the briefcase of every judge or lawyer dealing with mediation issues and should also be commonly used in Judicial College and Continuing Professional Development training sessions.
With the assistance of an eminent Editorial Advisory Board, this work has been designed to assist practitioners and take account of the vital role ADR has to play in reducing the costs of civil disputes by fomenting the early settlement of cases.
The book provides a practical resource for judges, litigators and others involved with ADR in a concise and user-friendly format. It includes an in-depth overview of the different options and principles of ADR, as well as sections on: the interplay between ADR, CPR and litigation; negotiation; mediation; recording and enforcing settlement; and other alternative dispute resolution options, as well as giving a summary of the international perspective. Additional materials such as mediation providers and specimen documents are available on a companion website.