Blackstone's Guide to the Human Rights Act 1998 6th ed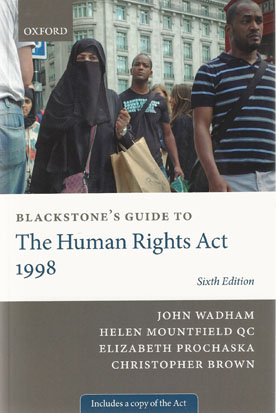 ISBN13: 9780199697007
Published: October 2011
Publisher: Oxford University Press
Country of Publication: UK
Format: Paperback
Price: Out of print

The Blackstone's Guide Series delivers concise and accessible books covering the latest legislative changes and amendments.
Published soon after enactment, they offer expert commentary by leading names on the scope, extent and effects of the legislation, plus a full copy of the Act itself. They offer a cost-effective solution to key information needs and are the perfect companion for any practitioner needing to get up to speed with the latest changes.
The Blackstone's Guide to the Human Rights Act 1998 provides clear, concise coverage of the operation and application of the Human Rights Act 1998, discussing the successes and failures of the Act and the debate surrounding its possible eventual replacement with a Bill of Rights.
The Guide assesses the case law of the European Court and analyses the impact of Convention rights in landmark domestic judgements across a wide range of areas, including terrorism, privacy, discrimination, and criminal law. It explains the interpretive techniques employed by the courts to read legislation compatibly with Convention rights, and maps the UK and Strasbourg courts' divergence in approach to certain areas of human rights protection. It also highlights the aspects of the Act that the courts have not yet clarified.
The new edition of this popular Guide considers all relevant developments since the publication of the previous edition, including the government's proposals on a Commission for a Bill of Rights and possible changes to the Human Rights Act, and the developing contradictions between the jurisprudence of the European Court of Human Rights and domestic authorities.
It also covers the Strasbourg procedures, implementation of Protocol 14 on improving the efficiency of the European Court, as well as the possible implementation of further rights. It explains the relationship between the European Convention and the new EU Charter of Fundamental Rights and includes coverage of all significant cases in the European Court, Court of Appeal, and Supreme Court, including in the areas of privacy (MGN v UK), extradition (Norris v United States of America), criminal law (R v Horncastle), voting rights (Greens v UK), and housing (Manchester City Council v Watts).
The book contains a copy of the Human Rights Act 1998 as amended, and the European Convention for the Protection of Fundamental Rights and Freedoms.