Principles of Australian Equity and Trusts 4th ed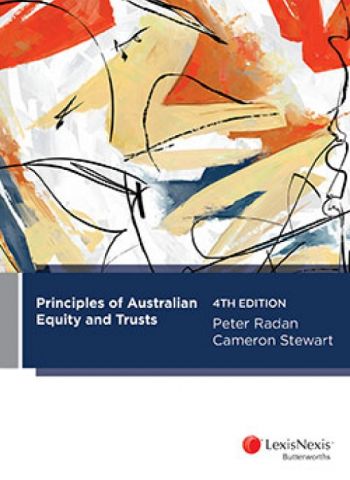 ISBN13: 9780409348217
Published: November 2018
Publisher: LexisNexis Australia
Country of Publication: Australia
Format: Paperback
Price: £80.00

Principles of Australian Equity and Trusts is designed to equip students with the skills to analyse fact situations and correctly identify the relevant principles of the law of equity and trusts applicable to the resolution of problems. The clear and accessible style of the authors makes this an essential resource for students new to the study of equity and trusts.
The fourth edition of has been fully revised and updated to include recent developments in case law, including:
Thorne v Kennedy (2017) 350 ALR 1 on undue influence and unconscionability
Crown Melbourne Ltd v Cosmopolitan Hotel (Vic) Pty Ltd (2016) 333 ALR 384 on equitable estoppel
Paciocco v Australia and New Zealand Banking Group Ltd (2016) 258 CLR 525 and Cavendish Square Holding BV v Makdessi; ParkingEye Ltd v Beavis [2016] AC 1172 on penalties
City of Mandurah v Australian Flying Corps and Royal Australian Air Force Association (WA Division) Inc (2016) 50 WAR 466 on charitable trusts
Simic v NSW Land Housing Corporation (2016) 260 CLR 85 on rectification.
The text is suitable for standalone use or with the companion casebook Radan, Stewart & Vickovich, Principles of Australian Equity and Trusts: Cases and Materials. The textbook and casebook follow the same chapter order and structure and plentiful cross-referencing makes it easy to use the books in tandem.
Features
Clear and accessible coverage of all key topics
Ideal for students new to the study of equity and trusts
Develops students skills in case analysis and the identification and application of relevant principles from fact situation