Keay's Insolvency: Personal and Corporate Law and Practice 9th ed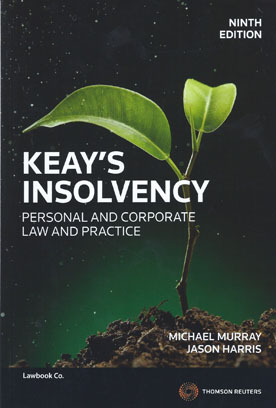 ISBN13: 9780455236919
Published: March 2016
Publisher: Thomson Reuters Australia
Country of Publication: Australia
Format: Paperback
Price: Price on Application

The ninth edition of Keay's Insolvency has come at a time when major insolvency reforms, foreshadowed in previous editions, have just been announced.
While none of these has become law, the authors have introduced readers to the proposed changes and the considerable impact they will have on the operation of the law and the administration of insolvencies. These include the introduction of a safe harbour defence to insolvent trading, allowing more emphasis on informal restructuring, restrictions on counter-parties terminating contracts under "ipso facto" clauses, and allowing small companies to go through a streamlined liquidation process.
The timing of these reforms, and their significance, is such that those studying and practicing in insolvency need to have an understanding of what is coming, which Keay will provide, even if by way of brief comment at various points throughout.
Those reforms have confirmed the authors' continued and increased focus on corporate restructuring law and practice, including outside the context of formal insolvency, an on-going trend in Australia, and internationally.
The authors have given greater emphasis to legal and insolvency practice - with references throughout to ASIC and AFSA regulatory guidance, Court rules, the ARITA Code, tax issues and forms. Useful tables have been added to explain the details in the text and each chapter now has a summary table of references to the particular parts of the legislation, regulatory guidance, and court rules. The book also cross-references to cases in the new case book, Insolvency Law – Commentary and Materials.
Commentary on the statistical trends available from the October 2015 annual reports of the regulators, and other data, is explained, in particular in as far as they may support the law reform trends.
The final chapter in the last edition of the text critically assessed Australia's insolvency regime. The authors stand by that commentary and have necessarily updated and added to it in light of the law reform announcements, remaining of the view that while the laws work well enough, the environment local and international environment in which they operate has significantly changed such that, while the reforms are welcomed, a wholesale review of the regime in Australia is still needed.
The authors are pleased to see the recognition given to Australian insolvency law and practice through the election of Mr Mark Robinson of PPB Advisory as President of INSOL International in 2015, and of Professor Rosalind Mason, of Queensland University of Technology (QUT), as Chair of INSOL Academics. Both have contributed enormously to the development of the practice and law of insolvency both in Australia and internationally. We are very pleased to have Mark Robinson contribute a foreword to this edition of the book.