Uniform Evidence Law 13th ed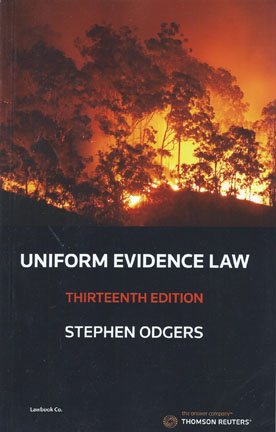 ISBN13: 9780455501024
Published: June 2018
Publisher: Thomson Reuters Australia
Country of Publication: Australia
Format: Paperback
Price: Out of print

Uniform Evidence Law 13th ed provides Australia's leading guidance on the uniform evidence law for barristers, courts, litigators and students alike. With up to a quarter of the legislative provisions are reviewed in the courts annually, it is essential to have a current copy at hand.
Stephen Odgers' involvement in the uniform evidence law, from its formative stages though to its adoption in six jurisdictions, imbues the commentary with an authority unequalled by other texts. His annotation of the legislation does not simply summarise this key part of the law; rather, it continues to influence its future development.
Case law and legislative developments are thoroughly considered. High Court judgments referred to include:-
Hughes v The Queen (2017) on the requirement of "significant probative value" for tendency evidence;
The Queen v Dickman (2017) regarding identification evidence and the exclusion of evidence where "probative value is outweighed by the danger of unfair prejudice"; and
The Queen v Dookheea (2017) in relation to directing a jury with respect to the criminal standard of proof.
The 13th edition provides the most accessible and incisive treatment of the law to a wide range of readers. The legislative provisions of N.S.W., the Commonwealth, Victoria, Tasmania, the A.C.T. and Northern Territory are reproduced in full and the commentary is expanded to include both the A.C.T. and the Northern Territory.
With its popular and highly accessible annotated legislation format, and comprehensive commentary, Uniform Evidence Law 13th Edition is the authoritative voice on evidence law in N.S.W., the Commonwealth, Victoria, Tasmania, the A.C.T. and Northern Territory.