CCH US Master Tax Guide 2020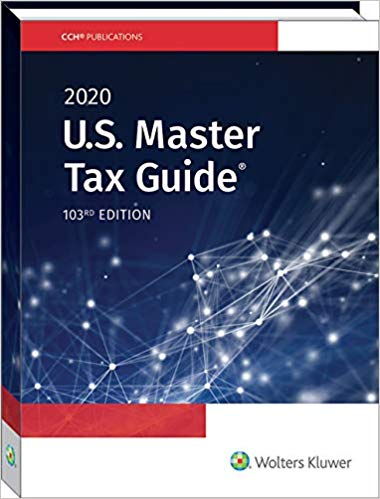 ISBN13: 9780808047797
Published: November 2019
Publisher: CCH US
Country of Publication: USA
Format: Paperback
Price: £119.00

As a tax professional, staying on top of all the annual changes to tax law and provisions is a substantial challenge. To help you understand recent updates and essential regulations, Wolters Kluwer Tax & Accountancy offers the U.S. Master Tax Guide 2020. This comprehensive guide has been carefully researched by experts to address the current U.S. tax structure, as well as the latest updates covered by the Tax Cuts and Jobs Act, so you can ensure that your clients or business files their 2019 taxes accurately.
With a careful assessment of all recent tax code changes, the U.S. Master Tax Guide 2020 has been reorganized to reflect the updated tax structure and includes all the latest regulations to help you address the needs of clients, especially those affected most: individuals and businesses. You'll find extensive information on new tax legislation, including the:
Tax Cuts and Jobs Act
Consolidated Appropriations Act 2019
Bipartisan Budget Act of 2019
Additionally, the guide includes summaries of provisions enacted by each state to address these adjustments to the tax code. Tax preparers can access resources for tax planning opportunities and guidance on several key issues, including the transition tax, Section 199A Qualified Business Income Deductions, bonus depreciation, GILTI, and more. The guide also includes easy-to-use cross-references to the Internal Revenue Code, Income Tax Regulations, and other key tax law sources to connect explanatory text to the complex regulations it applies to.