Inheritance Act Claims 2nd ed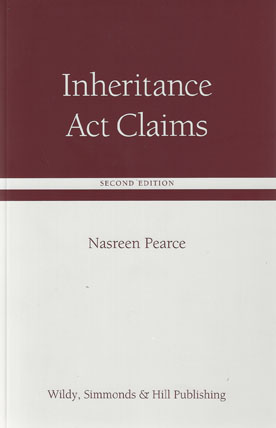 ISBN13: 9780854900787
Published: July 2011
Publisher: Wildy, Simmonds and Hill Publishing
Country of Publication: UK
Format: Paperback
Price: Out of print

Inheritance Act Claims provides a clear, comprehensive, easily accessible and practical guide to the provisions of the Inheritance (Provision for Family and Dependants) Act 1975 as amended.
It sets out in detail material which is likely to be of assistance to lawyers and non-lawyers relating to the background to the legislation:-
pre-conditions and time limits for making a claim,
categories of those who are entitled to make a claim,
grounds on which a claim may be made;
the matters to which the court must have regard in deciding a claim and the court powers to make orders including the powers of the court in respect of dispositions intended to defeat a claim,
the assets out of which financial provision under the Act may be made,
the position of personal representatives and trustees
and the practice and procedure of making a claim.
It contains relevant information relating to cohabitants, the impact of the Civil Partnership Act 2004 and the Human Fertilisation and Embryology Acts 1990 and 2008.
The appendices include a range of sample forms and precedents, the text of the 1975 Act and the relevant provisions of the CPR.