A Practical Guide to Costs in Personal Injury Cases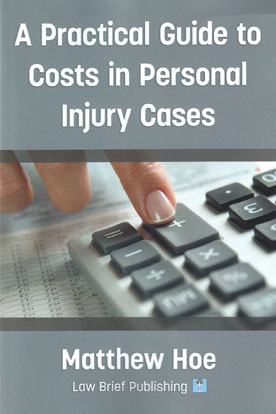 ISBN13: 9780957553095
Published: April 2016
Publisher: Law Brief Publishing
Country of Publication: UK
Format: Paperback
Price: £49.99

So much has changed in the legal costs field, particularly in the field of personal injury cases. The rules on recovery of legal costs have been through extensive reform.
There are new fixed costs regimes and changes to procedure. There is so much to absorb. This book is the essential guide to the issues that frequently recur when dealing with costs in personal injury cases, and it addresses those issues without being weighed down by the more arcane and obscure points of costs law. It is a refreshing and light hands-on guide for personal injury solicitors, insurers, barristers, costs professionals and judges who want to or have to deal with costs issues themselves.
The necessary information is laid out clearly and accessibly. When faced with another costs argument and you need an explanation, an answer, or instructions - this is the book for you.