Paget's Law of Banking 14th ed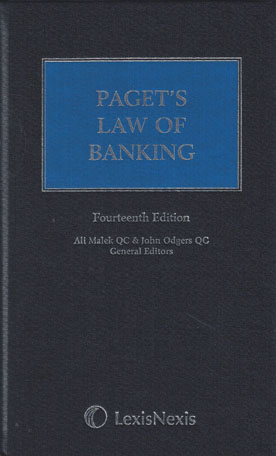 ISBN13: 9781405763424
Published: September 2014
Publisher: LexisNexis Butterworths
Country of Publication: UK
Format: Hardback
Price: Out of print

Wildy's Book of the Month: October 2014
First published in 1904, Paget's Law of Banking has established itself as the leading practitioner text on banking law, combining meticulous accuracy and depth with a clear approach to this complex area.
Since the last edition was published in 2007 (just before the credit crunch), the old regulatory regime has been amended by the Financial Services Act 2012 and two new financial regulators, the Financial Conduct Authority and Prudential Regulation Authority, have come into being. European law has driven many further changes in the fields of payment services, data protection and money laundering.
This has been accompanied by rapid evolution in the services offered by banks and in banking technology. The sale of derivatives such as interest-rate swaps has become a source of business, and a fertile ground for disputes, whilst electronic payments systems are rapidly ousting the older, paper-based payments.
The forthcoming edition has a completely new author team from 3VB (Chambers & Partners' Banking & Finance Set of the Year for 2013). There are 27 individual contributors from the set, led by general editors Ali Malek, QC (Head of Chambers at 3VB, Deputy High Court Judge and former Chairman of the Commercial Bar Association) and John Odgers, QC (who also co-edits Byles on Bills of Exchange & Cheques).
The new author team has completely restructured the book, taking it apart and putting it back together again so that it more closely reflects currently practice – it is, therefore, mucsh more than just a regular update. In addition to revising the existing content, there are new chapters on:-
bank regulation
money laundering
data protection
consumer credit
payment services
advising on financial products and retail derivatives
hierarchies of lending
syndication of loans