Ray & McLaughlin's Practical Inheritance Tax Planning 13th ed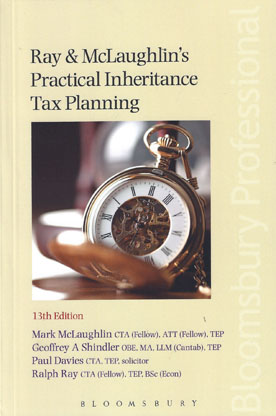 ISBN13: 9781780437750
Published: February 2016
Publisher: Bloomsbury Professional
Country of Publication: UK
Format: Paperback
Price: Out of print

Ray & McLaughlin's Practical Inheritance Tax Planning 13th ed is an essential guide to the IHT issues and planning opportunities that concern lawyers and accountants when advising clients on the most appropriate course of action.
This edition features 'signposts' at the beginning of each chapter to provide a useful summary of the main points and cross-references to the relevant commentary. It also includes 'focus points' to highlight important issues, and an index of examples. These features make it easier to find the key topics and scenarios in each chapter.
The practical commentary addresses the main planning points, potential pitfalls and possible solutions for IHT and estate planning.
Fully updated to include important IHT changes introduced in the two Finance Acts of 2015, and featuring commentary on future changes announced in summer Budget 2015, this invaluable resource covers:-
The increased threshold where a home is inherited by descendants {the 'residence nil rate band')
Changes to the calculation of the IHT rate on settled property- an attack on 'pilot trusts'
The end of the 'Frankland trap' on distributions etc. from property settled by will Amendments to the provisions on settlements with an initial interest in possession
IHT exemptions for decorations and other awards, emergency service personnel etc.
Proposed new 'deemed domicile' rules and proposed new rules on UK residential property held indirectly by non-UK domiciled individuals or by excluded property trusts
Relevant case law including:-
Green v R&C {business property relief: furnished holiday lettings) 0 Routier & Anor v R&C (charity exemption)
Hutchings v R&C (penalty for error in IHT return)
Vaughan-Jones v Vaughan-Jones (rectification of a deed of variation for IHT purposes)