The Savage Poodle: Tales from Legal Practice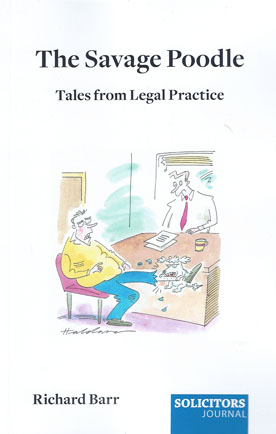 ISBN13: 9781783583041
Published: November 2017
Publisher: Richard Barr
Country of Publication: UK
Format: Paperback (122 Pages)
Price: £7.99

Richard Barr has been writing a regular column for Solicitors Journal for longer than he can remember. The Savage Poodleis a compilation of some of Richard's best stories picked from his monthly slot, Tales from Practice, over the past 40 years or so.
With his accute sense of observation and cool humour, Richard has regaled generations of lawyers with cheerful insight about life as a solicitor. Over the years, his accounts of tricky meetings with clients, awkward situations with colleagues and odd encounters with animals or everyday objects, have elicited countless letters from fellow lawyers sharing their own in return.
Like any collection of this nature, the exercise is entirely unscientific. It is based solely on the combined subjective applicatio of Richard's own appreciation, mixed with our own personal favourites here at Solicitors Journal.
The book is being published now, following the closure of Solicitors Journal, In October 2017, as an opportunity to look back over one of the magazine's most popular features. 
It would make an excellent gift for solicitors or anyone with an interest in the law.