Rossdale: Probate and Administration of Estates 5th ed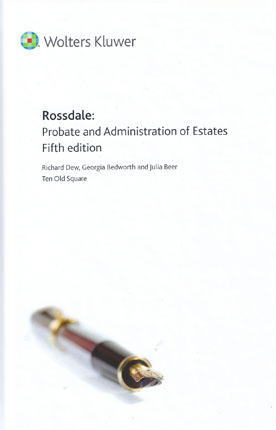 ISBN13: 9781785402739
Published: April 2016
Publisher: Croner-i
Country of Publication: UK
Format: Hardback
Price: £129.95

Despatched in 9 to 11 days.
Written in a highly practical style, accessible to either the specialist or the general practitioner, this book is set to build on its reputation as one of the key reference works on the subject for all those involved with probate and the administration of estates. Its combination of a user-friendly text with detailed footnotes makes it an ideal reference source for all probate practitioners, whatever their level of experience in the area.
What does this title cover?
This book has a broad scope. It deals with the process of administering the estate from start to finish: from the obtaining of the grant to the final distribution, with some diversions in between. The text is intended to be a practical guide. It is by no means an academic treatise which deals with each and every problem or question which may arise when administering an estate. Some of the topics touched on in the book may require specialist advice. We have endeavoured to highlight in the text the occasions when specialist advice may be necessary or made reference to more detailed texts on the subject.
The book has been structured in a logical way, leading the reader through the administration of the estate from death and the obtaining of the grant through to completion of the administration.
Although primarily designed to assist those acting for the personal representatives, we have included material which assists anyone involved in the administration of estates, from beneficiaries of the estate to those wishing to challenge the deceased's will.
Part I deals with preliminary matters, such as, first steps in the administration of the estate including the obtaining of a grant of representation.
Part II deals with important questions personal representatives will need to consider when faced with a will, such as is the will valid? Has it been revoked by actions of the testator?
Parts III, IV, V and VI concern the substantive administration of the estate, including the powers of the personal representatives, the collection of assets and their distribution.
The important topic of liability for maladministration is considered in Part VI.
Part VII deals with post death variation, either by a consensual variation (usually made for inheritance tax purposes) or by a hostile application to Court.
Finally, contentious and other proceedings, including a new chapter on limitation of actions, are dealt with in Part VIII. The rationale for dealing with this at the end is that, although where a will is challenged a probate claim is usually brought before a grant is even obtained; the vast majority of estates are non-contentious.