CCH Transition Guide FRS 102 and FRS 105 2017-18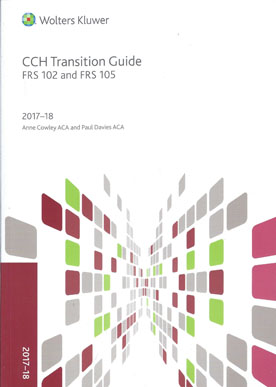 ISBN13: 9781785404931
Published: June 2017
Publisher: Croner-i
Country of Publication: UK
Format: Paperback, A4
Price: Out of print

Updated in March 2017 by our in-house experts, this publication is an all-in-one guide to the practical steps needed to transition from old UK GAAP to FRS 102 or FRS 105.
Especially useful for small entities who will now be preparing for their transition from old UK GAAP to new UK GAAP, the guide covers the impact on accounting policies, taxation and how to guide clients regarding the transition exemptions available. Checklists and examples help ensure understanding and completeness of transition work.
With the issue of the revised FRS 102 in 2015, requiring small companies to also move to FRS 102 in 2016, the 2017-18 edition is aimed primarily at small companies and micro-entities transitioning now.
It covers:-
the requirements and options in FRS 102 with Section 1A applicable to small companies and in FRS 105 applicable to micro-entities;
practical issues involved with implementation known to the authors from adoption of FRS 102 thus far; and
a worked case study showing the transition of a small company from old UK GAAP to FRS 102.