Construction Industry Scheme: Guidance and Commentary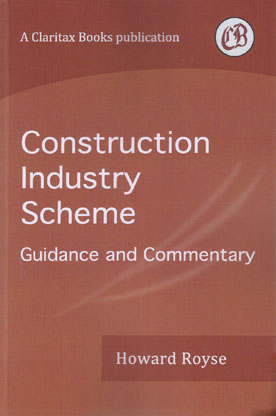 ISBN13: 9781908545725
Published: June 2015
Publisher: Claritax Books
Country of Publication: UK
Format: Paperback
Price: Out of print

This book is a practical guide to dealing with the requirements of the Construction Industry Scheme, based on years of experience gained by the author in representing clients, liaising with HMRC and working in the construction industry.
Coverage includes the scope of the scheme, all the key definitions, guidance on verification and extensive discussion of the practicalities of gross payment status. A huge number of CIS cases are analysed and the author provides practical guidance on the concept of reasonable excuse and of penalties.
The author, Howard Royse, has been the ICAEW's lead representative in CIS discussions with HMRC for more than 10 years. His practical experience of working in this field is very apparent throughout the text.
The book complements and expands upon HMRC's publication CIS340. The book includes observations on the CIS consultation held by HMRC from June to September 2014 and the summary of responses issued in December 2014.