CPAG: Benefits for Migrants Handbook 2019-20 11th ed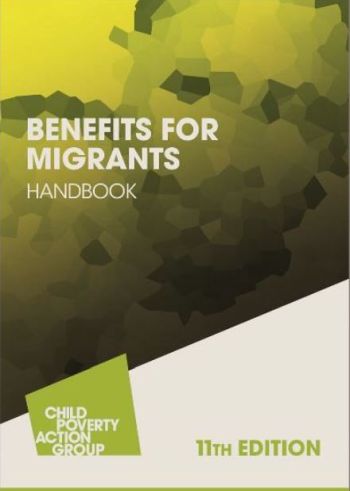 ISBN13: 9781910715536
To be Published: June 2020
Publisher: CPAG NYP
Country of Publication: UK
Format: Paperback
Price: £38.00

CPAG's Benefits for Migrants Handbook has firmly established itself as the leading text on social security entitlement for people who have come to, or who are leaving, the UK.
With our future relationship with the European Union still unclear, the publication of this year's edition will be timed to ensure advisers get the very latest information on the benefit entitlement of European nationals and their families. The book includes all you need to help you establish the immigration status of your clients and ensure they receive their full benefit entitlement. It includes step-by-step guides and examples to make the information easier to use, tactics to help enforce your clients' rights and chapters on dealing with practical problems, such as delays and providing evidence.
The book also includes information for asylum seekers and refugees, British citizens returning from abroad, the 'Windrush generation', and other migrants who need help navigating the immigration and benefit rules. It is fully indexed and cross-referenced to both UK and European legislation and caselaw.
Whether it is updated to provide information for European nationals during a transition period, or fully revised and restructured to reflect a brand-new landscape, the Benefits for Migrants Handbook should be on the desk of everyone advising European nationals about their benefit entitlement in this historic and potentially transformative year.