A Practical Guide to the Ending of Assured Shorthold Tenancies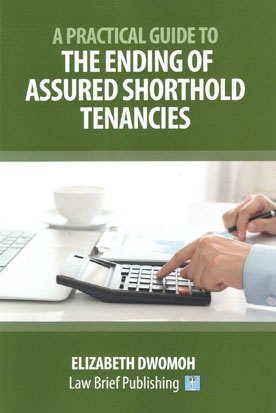 ISBN13: 9781911035190
Published: August 2018
Publisher: Law Brief Publishing
Country of Publication: UK
Format: Paperback
Price: £29.99

The assured shorthold tenancy was introduced under the Housing Act 1988. It has since become the most common form of tenancy in the private rented sector.
This guide provides legal practitioners, professional agents, landlords and tenants alike with a practical guide to the current law governing the termination of an assured shorthold tenancy in England. In a comprehensive, yet accessible, format this guide aims to assist the reader navigate some of the common pitfalls associated with the termination of such tenancies.
A Practical Guide to the Ending of Assured Shorthold Tenancies is written by Elizabeth Dwomoh, an experienced barrister with expertise in the field of residential landlord and tenant law.