Financial Planning with Trusts 2019-20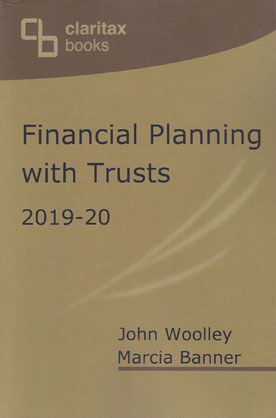 ISBN13: 9781912386154
Published: July 2019
Publisher: Claritax Books
Country of Publication: UK
Format: Paperback
Price: Out of print

This substantial work (see full contents below) looks at a wide range of topical tax and financial planning strategies using trusts. Popular with tax practitioners and financial advisers alike, it demonstrates the effective use of different trusts to meet financial and tax planning objectives.
The book includes CGT, income tax and IHT planning and also examines the special trust arrangements used in the financial services sector.
Written by highly qualified and experienced authors, this book helps readers to grasp the full implications, advantages and potential disadvantages of using a particular trust. The text is supported throughout by statutory references and case law precedents.
The 2019-20 edition has been re-structured and expanded and is now divided into the following key sections:
First principles
Taxation of trusts - general principles
IHT planning
International aspects
Wills, probate and powers of attorney
Financial protection on death
Investments
Pensions
The private business
Residential property
Other uses of trusts - chattels, asset protection, reducing care costs, personal injury, trusts for the disabled and vulnerable
Compliance and administration
The new edition includes a number of new case reports, updated examples and commentary throughout, more on money laundering and Trust Registration Service changes, etc.