Income Tax 2021-22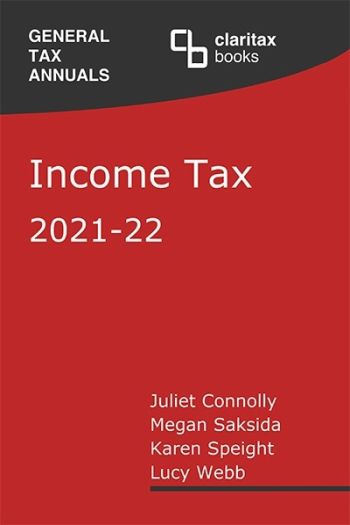 ISBN13: 9781912386390
Published: May 2021
Publisher: Claritax Books
Country of Publication: UK
Format: Paperback
Price: Out of print

This major new volume aims to be both the clearest and the most comprehensive single-volume guide to income tax in the UK. With around 1,000 pages of commentary, written for accountants and tax specialists, the text is arranged across 10 sections, with a total of 42 chapters.
With expert commentary from a number of specialist authors, the book covers all the basics, but also does much more. It addresses the difficult areas practitioners come across in their day-to-day work, including (for example) employee termination payments, farmers and creative artists, property fixtures and other capital allowances, life policies, leases and lease premiums, trusts and deceased estates, plus a major section on international tax matters.
The book follows the same approach to clarity and ease of use that is already familiar to practitioners using our more specialist titles. The logical table of contents, as well as the comprehensive indexing, makes it easy for readers to find what they are after.
Introduction and compliance (2 chapters)
Computational aspects (2 chapters)
Employment (10 chapters)
Self-employment (5 chapters)
Capital allowances (3 chapters)
Investment income (3 chapters)
Property income (3 chapters)
Pensions and state benefits (5 chapters)
International aspects (7 chapters)
Trusts and settlements (2 chapters)
Appendices, including tables of key data