A Practical Guide to CPR Part 36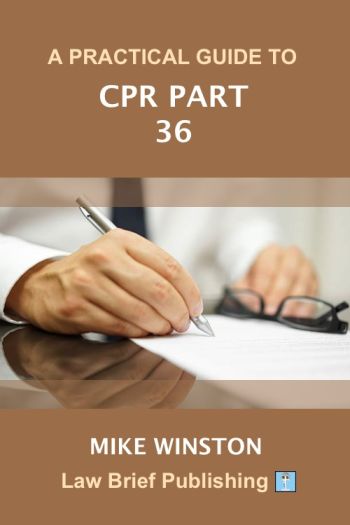 ISBN13: 9781912687053
Published: February 2020
Publisher: Law Brief Publishing
Country of Publication: UK
Format: Paperback
Price: Price on Application

The ability to make timely and effective offers to settle is vital for the modern litigator. Using the wrong type of offer or making defective offers can literally cost thousands in damages and costs.
Part 36 has grown to become the most powerful tactical weapon in both claimant and defendant lawyers' arsenal but its complexity and the plethora of case law in this area means that mistakes are frequently made.
This practical guide is aimed at all litigators (both claimant and defendant) and is intended as a 'go-to' reference to help strategically balance the need to protect clients' positions whilst maximising results.
Making robust, valid Part 36 offers
When are Calderbank offers more appropriate?
Clarifying offers
Part 36 and the portal
When should (and shouldn't) Tomlin orders be used?
Tactical use of 'time-bomb' offers
When is it 'unjust' to follow the normal rules?
Part 36 in split trials
Withdrawal / changing of offers
Late acceptance – what costs are payable?
Indemnity costs for Claimants following Broadhurst v Tan
Offers to settle in cases involving multiple parties – avoiding the pitfalls and ensuring your client is fully protected
QOCS in personal injury claims – when can it be disapplied?
Who could be 'a person other than the Claimant' under CPR 44.16?
What is a 'pre-commencement funding arrangement' under CPR 44.17?
Tactical use of rule 3 in QOCS cases
Fundamental dishonesty – is there any need to raise it since Howlett v Ageas?