Advocacy Manual: The Complete Guide to Persuasive Advocacy 2nd ed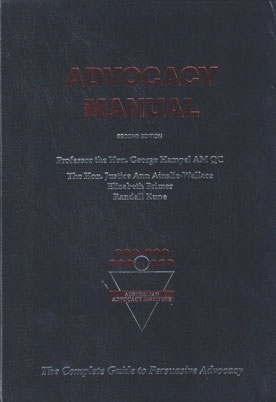 ISBN13: 9781921004414
Published: March 2016
Publisher: Australian Advocacy Institute
Country of Publication: Australia
Format: Hardback
Price: £115.00

Usually despatched in 1 to 3 weeks.
"The Advocacy Manual is an outstanding work which will no doubt become the text book of choice for Bar Reading and other courses designed to teach the elements of persuasive advocacy.
It is doubtful whether any other Australians are better qualified to write a Manual on advocacy than these three authors. At all events, it would be difficult to find three other authors whose experience in teaching advocacy exceeds their combined experience."
"The Advocacy Manual 2nd ed, teaches the inexperienced advocate the lessons that earlier generations of advocates learned only from years of practice, observation and sometimes humiliating experiences. It would be a mistake, however, to think that the Manual is a work for tyros. Even the most senior and experienced advocates are likely to find that it contains useful tips that are either new to them or that they have forgotten." "In 18 concisely written pages, the authors provide illuminating guides concerning the preparation and presentation of a plea in mitigation."
"..this is a most valuable work that will repay reading and re-reading by even the most experienced advocate. It should be on the shelves in every advocate's law library. I would not only adopt the statement in the Foreword by the Honourable Murray Gleeson AC QC, one of the greatest advocates that the Australian legal profession has produced, commending "this valuable work to all aspiring legal advocates", I would also commend it to the experienced legal advocate."
The Hon. Michael McHugh AC QC, Former Justice of the High Court of Australia