The Annotated European Patent Convention: 25th ed Updated till 15-11-2017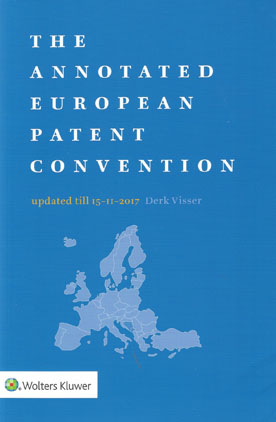 ISBN13: 9789041195517
Published: January 2018
Publisher: Kluwer Law International
Country of Publication: The Netherlands
Format: Paperback
Price: Out of print

The twenty-fifth edition of this preeminent work – the only regularly updated authoritative article-by-article commentary in English on the European Patent Convention (EPC), its implementing regulations, and associated case law – provides the complete text of the 2000 Convention annotated with commentary and expert guidance on the interpretation of each paragraph.
Since its first edition in 1994 it has provided the European patent community with the necessary insights to practise successfully before the European Patent Office. The EPO recommends the Annotated European Patent Convention as the first book in its list of non-EPO/WIPO literature to be used for the preparation of the European qualifying examination.
In addition to a thorough updating of developments, new material in the twenty-fifth edition includes the following:-
important amendments in the latest edition of the Guidelines that entered into force 1 November 2017;
announced amendments of the law that enter into force after 15 November 2017;
a new decision of the Enlarged Board of Appeal on partial priority;
the changed structure of the Boards of Appeal and the effect on their perceived independence.
Cross-references in the notes to articles and rules aim at giving an insight into the structure of the Convention. The provisions also contain references to the EPC 1973 to facilitate comparison of the old and new law. Numerous references to case law and the Guidelines allow the user to consult the source of the information contained in the notes and give a quick access to important case law.
Transitional provisions from the EPC 1973 to the EPC 2000 are given where still relevant. The closing sections of the book consist of a Case Law Table, an Index, and summaries of articles and rules of various law texts, intended for obtaining a quick grasp of essential elements of these laws.