Two Volume Set: Incoterms 2020® & Incoterms 2020® Wallchart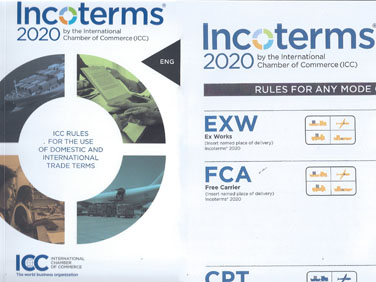 ISSN: 0001-0022
Published: November 2019
Publisher: International Chamber of Commerce
Country of Publication: France
Format: Paperback & Wallchart
Price: £56.00

Incoterms® 2020 Wall Chart ICC's popular support tool, is a full colour, poster-sized flow chart outlining the responsibilities of buyer and seller under each of the 11 Incoterms® rules.
Rules for any mode or modes of transport
Rules for sea and inland waterway transport
Incoterms® 2020 regulate the rights and obligations of buyers and sellers in international trade.
This includes the transfer of goods to the buyer, transport costs, liability for loss and damage to the goods and insurance costs. They are recognised worldwide and of great importance in foreign trade.