The Modern Law Review: Print + Online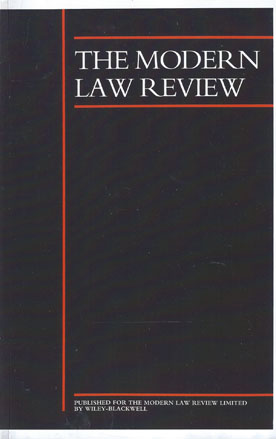 ISSN: 0026-7961
Latest Release: September 09, 2019
Publisher: Wiley Subscriptions
Country of Publication: UK
Format: Journal + Online
Price: £382.00 + £38.20 VAT

Subscription Type: Annual Subscription
Domestic Renewal Price: £442.20 including VAT of £40.20
Overseas Renewal Price: £591.00
Usually despatched in 1 to 3 weeks.
The Modern Law Review is a general, peer-refereed journal that publishes original articles relating to common law jurisdictions, and increasingly to the law of the European Union. In addition to publishing articles in all branches of the law, the Review contains sections devoted to recent legislation and reports, to case analysis, and to review articles and book reviews.
Since its foundation over seventy years ago, The Modern Law Review has been providing a unique forum for the critical examination of contemporary legal issues and of the law as it functions in society. The Review today stands as one of Europe's leading scholarly journals.