Palmer's Company Law 21st ed: Volume 1 - The Treatise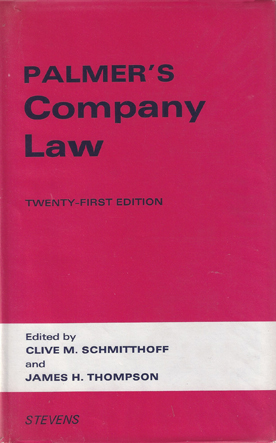 ISBN13: 004401
ISBN: 004401
Published: June 1968
Publisher: Stevens & Sons Ltd
Country of Publication: UK
Format: Hardback
Price: Out of print

Out of Print
Company law has become the law of business organisation and management and the aim of Palmer is to present all this law with its organisational, procedural, flnaneial and social implications as a coherent and integrated whole.
This edition of the leading reference book on Company Law restates and explains the present situation of the Companies Acts 1948 and 1967, and all other relevant enactments and regulations.
New chapters have been added in this edition on the Protection of Depositors Act 1963, the Directors' Report and the Inspection of Company's Books and Papers. Discussion of the rule in Turquand's Case, Debentures, Take-over Bids and Winding Up has been substantially revised.
Treatment of tax law has been considerably expanded in recognition of the preponderant importance of taxation on company operations.
Special treatment has been given to the Prevention of Fraud (Investments) Act 1958, the Protection of Deposi¬tors Act 1963 and the Control of Borrowing and Exchange Control regulations. Secretarial Practice Notes are added throughout where necessary. The requirements of the Stock Exchange for admission of securities to quotation are treated.